The Best Air Purifier
Updated January 4th, 2021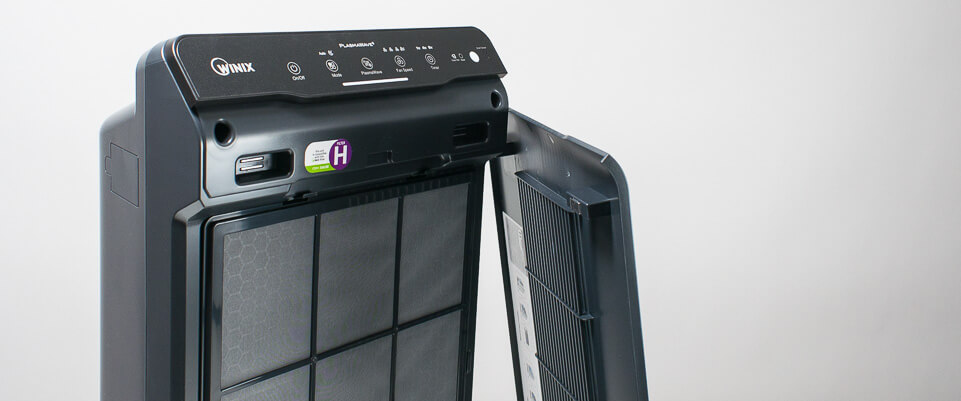 You're ready to buy an air purifier. But first you need to decide what "size" air purifier to buy. You look around online and see three terms that manufacturers use to describe an air purifier's "area of coverage":
CADR
ACH
X amount of SQUARE FEET of coverage
Most consumer publications do the same. They also recommend a certain CADR, ACH, or a unit with a specific sq. ft. recommendation for a room of a particular size. We're not one of those consumer publications. As we'll show below, all three of these metrics are heavily flawed.
Sizing

What NOT to use to properly size an air purifier - The CADR, ACH, Square Footage Myth - followed by our sizing recommendations.
CADR
Clean Air Delivery Rate – CADR - is confusing. You're given three numbers to describe how well an air purifier works. Each number describes how well the air purifier works to clean the air of a particular particle type. Let's use the Blueair Blue Pure 211+ as an example.
| Particle | CADR |
| --- | --- |
| Smoke | 350 |
| Dust | 350 |
| Pollen | 350 |
What do these numbers mean? If you were to do a bit of research, you'd find that they're nothing more than numbers derived from the unit's CFM – the cubic feet of air the unit is able to process each minute.
CADR and CFM are so closely related that you can very easily use CADR to estimate CFM. If the CADR is a certain range of numbers, the CFM is almost always just a little bit more than that range.
For example, the model above has CADR numbers of 350, 350, and 350 (this is a bit unique in that all three numbers are exactly the same but the point remains). The model's CFM? 360.
CFM is easy to understand – cubic feet per minute – it describes how many cubic feet of air the air purifier can process every minute. The model above processes 360 cubic feet of air per minute. Easy.
CADR is much more abstract.
It describes a calculation that involves
the amount of particles removed from the air
the amount of particles naturally falling out of the air
and CFM
in a particular test space
of a particular size
The point is that it's far from easy to calculate CADR and even more difficult to fully understand exactly what it is.
CADR is also solely used in the air purifier industry so chances are, if you've never bought an air purifier before, you have no idea what it is and so CADR is meaningless to you without a lot of further research (and even then you still may not completely understand it).
So, what do manufacturers do? Well, they usually give air purifier processing power in terms of CADR, of course*. So now the average new buyer has a much more difficult time comparing the output of different models because
they have to compare three numbers (CADR) instead of one (CFM)
they have to compare numbers that are abstractions (CADR) instead of numbers that are actually meaningful (CFM – cubic feet per minute)
Our advice? Just use CADR to estimate CFM as we described above. This will allow you to compare one number (CFM) between different units and gives you a much better idea of the actual processing power of the air purifier.
*Note – the notable exceptions are Austin Air and IQAir. Thus, the two manufacturers that don't give output in terms of CADR make some of the best air purifiers in the industry.
ACH
Investigating ACH is where we start seeing some real shenanigans.
ACH stands for "Air Changes per Hour". This term comes from the building code world. Commercial buildings need to be built in a certain way and have ventilation installed to certain ACH standards.
Air purifier manufacturers have latched onto this term because an air purifier ventilates. It exchanges or Changes "dirty" air for clean air. Fair enough.
But here's where things start becoming questionable.
First of all, air purifier manufacturers and consumer publications alike will make recommendations based on ACH. They'll say things like "make sure to get a unit with at least 4 ACH" or "if you're an allergy sufferer get a unit with higher ACH".
They say this because certain standards have been set for commercial buildings – 4 ACH, for example, is the minimum ACH required for hospital rooms.
However, these standards are set for ventilation, in general - not for residential stand-alone air purifiers. 4 ACH in a hospital room is never accomplished by an air purifier. It's accomplished, mostly by the HVAC system connected to the room. Air is being pulled out of the room and air is being forced into the room by the HVAC system, not an air purifier.
This is an entirely different method of ventilation than an air purifier. For one, the intake and output of an air purifier are next to each other. This is seldom the case for an HVAC system. Two, air purifiers operate using HEPA filters. Most HVAC systems use much less "dense" lower MERV air filters.
This, however, is only the tip of the iceberg when it comes to why ACH recommendations can be off base.
Take a look at the equation used to calculate ACH:
CFM * 60 / dimensions of the room
Let's say you want to calculate the ACH for a 100 CFM air purifier and a 2000 cubic foot room:
100 * 60 / 2000 = 3 ACH
You're a manufacturer selling this 100 CFM unit. There are no industry standard guidelines that designate standard room dimensions. So, let's say 3 ACH sounds a bit low to you. Well, that's easy to fix! Just lower the room dimensions from 2,000 down to 1,000 cu. ft.
100 * 60 / 1000 = 6 ACH
Congratulations! You've just doubled the ACH for your air purifier making it a much more attractive option for potential buyers. Higher ACH is better, right?
Square Footage
Things get even murkier with square footage recommendations.
As a manufacturer, how exactly can you say that your air purifier can cover 100 square feet? 200 square feet? 500 square feet?
The truth? You can do whatever you want. There's no industry standard for square footage recommendations.
We do see a trend in the industry where the claimed area of coverage increases as price increases.
The highest priced air purifiers tend to be marketed as being able to cover the highest square footage.
Our testing and research, however, shows that this is simply not the case. The most expensive units offer many benefits, but a greater area of coverage is not necessarily one of them (we'll talk much more about air purifiers for large areas later in the guide).
Our Testing: There's only one size air purifier to buy
Most air purifiers on the market can be broadly grouped into two categories:
1. Approx. 100 CFM units – air purifiers that process approx. 100 cubic ft. of air every minute
2. Approx. 250 CFM units – air purifiers that process approx. 250 cubic ft. of air every minute
We tested more than a handful of 100 CFM units – what most other consumer publications will call "air purifiers for small rooms" and found that while they certainly do "work" for small rooms, they're really not the best option for small rooms.
We also tested several 250 CFM units – most would call these "air purifiers for larger rooms". We agree – these are definitely great options for larger rooms. However, they're also far and away a much better option than 100 CFM units for smaller rooms.
The Golden Ratio
When reviewing air purifiers we evaluate them according to the following key features:
Air processing performance - how well does the air purifier pull in/output air? (CFM) How well does the air purifier clean the air? (filter type/quality)
Energy Efficiency
Noise Output
Durability
Ease of Use
Value
When we do so, again and again, we find that certain units in the 250 CFM category vastly outperform units in the 100 CFM category, in any size room – large or small. Here's an example to show what we mean:
| 100 CFM example | 250 CFM example |
| --- | --- |
| Honeywell HPA100 | Winix 5500-2 |
| Approx. 100 CFM for small room on highest fan speed - Turbo | Approx. 100 CFM for small room on second highest fan speed - High |
| Power draw on this setting: 50 watts | Power draw on this setting: 9.8 watts |
| Noise output on this setting: 68.7 dB | Noise output on this setting: 48.9 dB |
The bottom line – in general, smaller air purifiers (approx. 100 CFM) are much less energy efficient and/or much noisier than larger air purifiers (approx. 250 CFM) at the same output.
There are exceptions to this rule. For example, the Blue Pure 411 is much more energy efficient than the Honeywell. At approx. 100 CFM it, like the Winix draws less than 10 watts of power. But, the 411 is still much louder – 65.4 dB vs only 48.9 dB for the Winix at the same output.
The Winix demonstrates what we like to call the "golden ratio for air purifiers":
Exceptional energy efficiency and extremely low noise output at approximately 100 CFM.
Our testing showed that 100 CFM is
sufficient to lower the particle concentration in a small room
sufficient to maintain (to an extent – more on this later) low particle concentration in a large room
More reasons we don't recommend small air purifiers
If additional noise and (for the most part) much worse energy efficiency isn't enough of a reason to stay away from smaller units, consider these additional negatives:
1. Smaller units are more difficult to maintain. Smaller air purifiers have smaller HEPA filters. These filters "saturate" with particles much sooner than larger filters. The amount of particles in the air in your room is the same no matter what size filter is on the air purifier. Those particles will "saturate" a smaller filter much sooner. The end result is that you'll need to replace smaller HEPA filters much more often.
2. Smaller units are less versatile. Larger units can be set to approx. 100 CFM – for small rooms – on lower fan speeds but they can also be set to higher CFM (250 CFM) – for larger rooms – on max. fan speed. Such a higher fan speed with a higher CFM does not exist on smaller units. You can use 250 CFM units in smaller rooms and larger rooms. You can use smaller units only in smaller rooms (at lower energy efficiency and higher noise output).
3.Smaller units are generally less durable.  In general, the higher CFM units we tested were much better made with higher quality parts than lower CFM units.
The flip side of the coin: why we don't recommend air purifiers with over 250 CFM
We use these two benchmarks to determine how effectively an air purifier can clean the air in a particular room:
how fast it lowers particle concentration in the room
the lowest particle concentration it's able to achieve in the room
Our testing showed that 250 CFM units and higher CFM units (360 CFM, for example) are equally effective in cleaning the air in oversized rooms – 400, 500, 600, etc. sq. ft. rooms.
That is to say, both 250 CFM units and higher CFM units lowered particle concentration in such rooms equally fast and to an equally low concentration.
Here's the problem: Even though they were equally fast they were both very slow. Even though they both got the room to an equally low concentration it was a high concentration compared to what you should expect when you put an air purifier in a properly sized room.
In other words, it would be better for us to say that both 250 CFM and higher CFM units are equally ineffective cleaning the air in an extra large room.
The solution – multiple air purifiers
Our testing showed that multiple 250 CFM units are much more effective to clean the air in an extra-large room than a single high CFM unit (or, of course, a single 250 CFM unit).
Multiple 250 CFM units lower particle concentration much quicker and are able to get overall particle concentration in the room much lower.
The best part? You can buy two 250 CFM units for about the same price or much less than a single higher (350+) CFM unit.
With multiple 250 CFM units you also
1. Can easily boost up total CFM for the room to very high levels - 500 CFM, 750 CFM, etc. depending on how many units you place in the room. Single high CFM units rarely output at greater than around 400 CFM.
2. Distribute clean air much more efficiently throughout the room since there are now multiple sources of clean air in the room. With a single high CFM unit you have a single source of clean air in one location in the room.
3. Intake "dirty" air much more efficiently since there are now multiple locations to intake such air in the room. With a single high CFM unit you have a single location where air is pulled in to be processed.
4. Can better scale up. With this strategy (buying multiple 250 CFM units instead of a single high CFM unit) you can buy a single 250 CFM unit at a low entry price and use it for a marginal increase in air quality in an extra-large room. If you're satisfied with the results – if you find that it lowers room particle concentration to a level you're happy with – you can just keep using the single 250 CFM unit. If you find results unsatisfactory you simply purchase an additional unit.
5. Have more options to choose from. There are few air purifiers on the market that output at more than 250 CFM. In other words, units in the 300, 400 CFM range are few and far between. This means that you have to choose what's available more than you're able to choose what's the best. Once you go past 400 CFM most options are intended for commercial applications and the form factor (size, design) and price of such units reflect that.
6. Get a much better value. 250 CFM units offer the best combination of features, energy efficiency, and noise output at an affordable price. With higher CFM units you get diminishing returns – you don't really get much better filtering and often you don't get many more features either – only more CFM. Not to mention the fact that you can buy two 250 CFM units for about the same price or much less than a single 350+ CFM unit.
Our Size Recommendations
We recommend one size air purifier – anything with approx. 250 CFM of output.
Depending on the size of the space, a. adjust the settings or b. buy more units. Here are our complete recommendations:
For small rooms (under 150 sq. ft.)
Buy a recommended 250 CFM unit and run it on its second highest setting (at approx. 100 CFM) for maximum energy efficiency and minimum noise output.
For larger rooms (150 up to approx. 300 sq. ft.)
Buy a recommended 250 CFM unit and run it on its highest setting (at approx.. 250 CFM) to establish low particle concentration.
Run it on its second highest setting (at approx.. 100 CFM) to maintain low particle concentration.
How long you run the unit on its highest vs second highest setting will depend on your tolerance for noise. On its highest setting, the unit will produce a lot of noise. If you find this intolerable we recommend the following additional guidelines:
1. Run the unit on highest when you're not present – eg. while you're in a different room, while you're away from home
And
2. Run the unit on highest when you're generating a lot of particles – eg. while cooking, after opening a door
Then run the unit on the second highest setting while you're in the room.
Note: running a 250 CFM unit on its second highest setting (at approx.. 100 CFM) after running it on its highest setting (250 CFM) in a larger room will allow particle concentration to slowly creep back up over time. However, this will occur slowly and particle concentration will still stay relatively low.
If you don't want to need to constantly adjust fan speed, the alternative is buying two units and running both on the second highest setting.
For extra-large rooms (well over 300 sq. ft.)
Buy multiple 250 CFM units and then operate them according to the same guidelines outlined above – i.e. run them on highest to establish low particle concentration and second highest to maintain low particle concentration.
Note: If the space is slightly larger than 300 sq. ft. a 250 CFM unit will still work. However, if the room is 400, 500+ sq. ft. multiple units will be necessary.
Features

A closer look.
So far we've established that you want an air purifier with an output of 250 CFM, no matter the size of the room you're putting it in.
But, other than output, what else do you need to look out for when buying an air purifier? What other features are important? Which are not?
What doesn't matter
UV lights are usually poorly implemented in air purifiers. They either don't have sufficient wattage or aren't properly seated inside the air purifier to kill germs effectively. You also don't need to kill germs to filter them out of the air. The air purifier's HEPA filter will be able to remove up to 99.97% of germs from the air whether they're alive or dead.
There's nothing wrong with air purifiers that are equipped with antimicrobial filters but
a limited number of models on the market feature antimicrobial filters. By limiting yourself to those models you may not be able to purchase a model that's a very good air purifier otherwise
those models that do have antimicrobial filters are usually exorbitantly priced
antimicrobial filters are usually more expensive than filters that are not antimicrobial
again, you don't need to kill germs to filter germs. An antimicrobial filter is a nice to have feature but is by no means a necessary feature.
Air quality sensor and display with auto mode
The fact is that most built-in air quality sensors simply aren't very good quality – a good quality air quality sensor – by itself – usually costs upwards of $200, $300.
Built-in sensors aren't good for nothing. They certainly do pick up extreme changes in particle concentration. For example, if you start cooking near an air purifier with a built-in air quality sensor, its sensor will certainly pick up the extreme influx of particles in the air. However, let's say a few pollen grains come in through a window or past a door. In this type of scenario the sensor may or may not be sensitive enough to recognize those grains. Now there's a good possibility that you may have pollen grains in the air while the unit is still operating at a very low fan speed due to the fact that a higher fan speed wasn't activated because the sensor didn't recognize the grains.
This is why we always recommend running your air purifier on manual mode at the maximum fan speed possible – that is to say at the highest fan speed with a noise level you can tolerate.
Doing so is going to keep particle concentration in the room as low as possible at all times.
Doing so is also going to allow the air purifier to process new particles you and/or the unit's sensor may not notice as quickly as possible. If you do end up adding an extreme amount of particles to the room (e.g. when cooking) simply manually turn the unit up to a higher fan speed.
Specialized auto modes including eco mode, sleep mode, etc.
Again, we recommend setting the fan speed manually. When you go to bed simply set the unit to a lower fan speed if you find it's making too much noise on higher fan speeds.
A sleep mode is going to do exactly the same thing – set the unit and keep it on a low fan speed.
Similarly, if you want to run the air purifier as energy efficiently as possible, simply set it to a lower fan speed. Air purifiers, in general, are more energy efficient on lower fan speeds.
Eco mode does exactly the same thing but automatically – sets the unit to a low fan speed.
Filter replacement frequency mostly depends on
how often you run the air purifier
what speed you run the air purifier on
But especially,
the particle concentration of the air you're purifying – how dirty the air is that you're trying to clean.
If you run the air purifier often, the filter will "saturate" faster.
If you run the air purifier on higher fan speeds, the filter will "saturate" faster.
So far, so good – a filter change indicator light can be programmed to keep track of how long the air purifier has been running since the light has last been reset and it's also possible for it to take into account the unit's fan speed each time you use the air purifier.
Here's where things become problematic:
If the air you're cleaning is extremely dirty, the filter will also "saturate" faster.
If the air is only moderately dirty, the filter will "saturate" more slowly.
If the air is already quite clean, the filter will "saturate" very slowly.
How can a pre-programmed filter change indicator light take into account these variables? It cannot. Yes, it could theoretically get information from the air purifier's air quality sensor (if the air purifier has one) but, as we discussed earlier, the sensor is likely to be very low quality and is likely to lack the accuracy and precision to get good enough air quality data to be able to predict filter saturation accurately.
The bottom line is that it's up to you to keep track of the air purifier's performance over time.
If performance goes down (i.e. the air purifier doesn't clean air as fast or to the same extent as it did when it was new) – then it's time for a new filter.
It's up to you to frequently visually inspect the filter. If it looks like it needs replacement (i.e. it's extremely dirty) then it's probably time for a new filter.
Air purifiers are NOT large appliances.
Even "larger" residential air purifiers are still relatively small.
So, don't worry too much about the size or weight of the air purifier you plan on buying if portability is a concern for you.
If you find an air purifier you like, chances are it will be plenty small and light enough for your particular application.
Extra replaceable filters or special upgraded filters
– for example, medium filters (extra), pet filters (upgraded HEPA filters), etc.
Like antimicrobial filters, there's nothing wrong with these but our testing has shown that most of these types of filters do very little to actually improve particle filtration.
Extra replaceable filters, specifically, can potentially keep the air purifier's HEPA and/or carbon filters from saturating as fast BUT you now have to replace an additional filter which means you have to pay extra to replace this extra filter.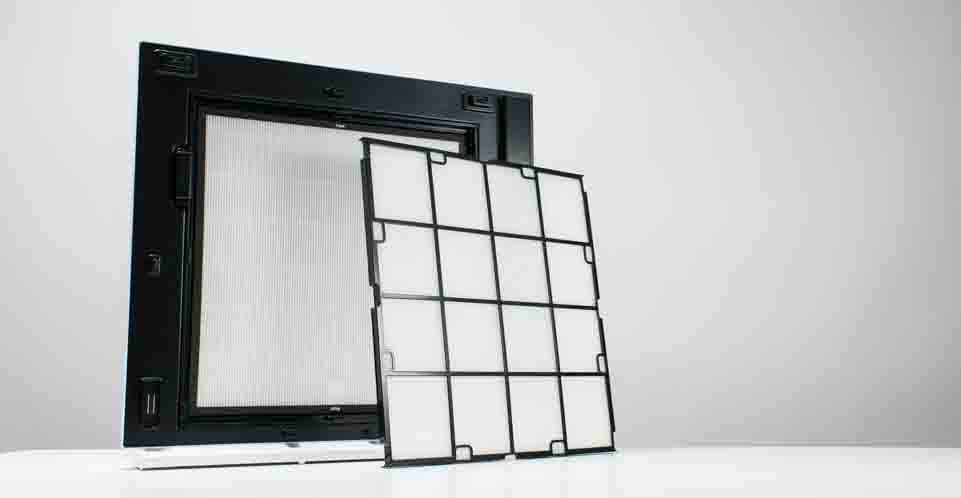 Upgraded versions of filters – for example "PET" HEPA filters - are usually more expensive to replace than the regular version of the filter which really, for all intents and purposes, does just as good a job.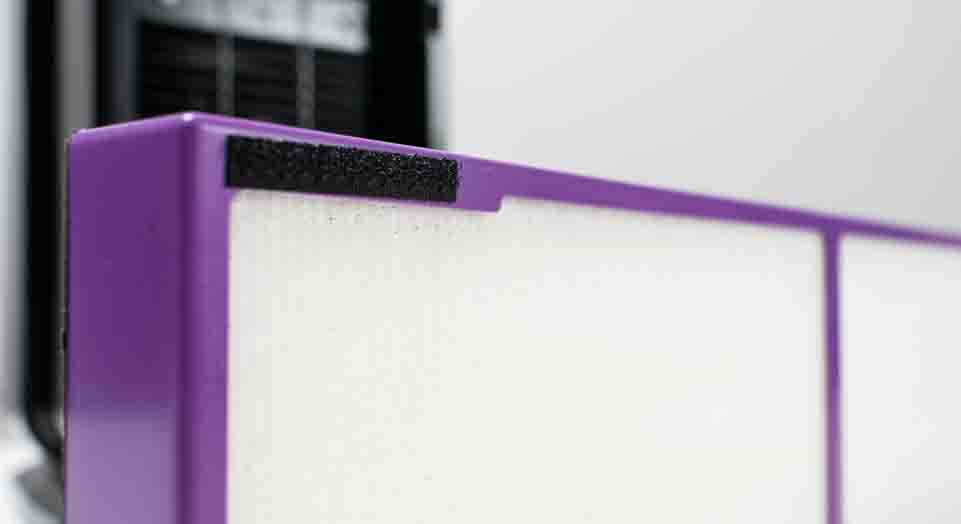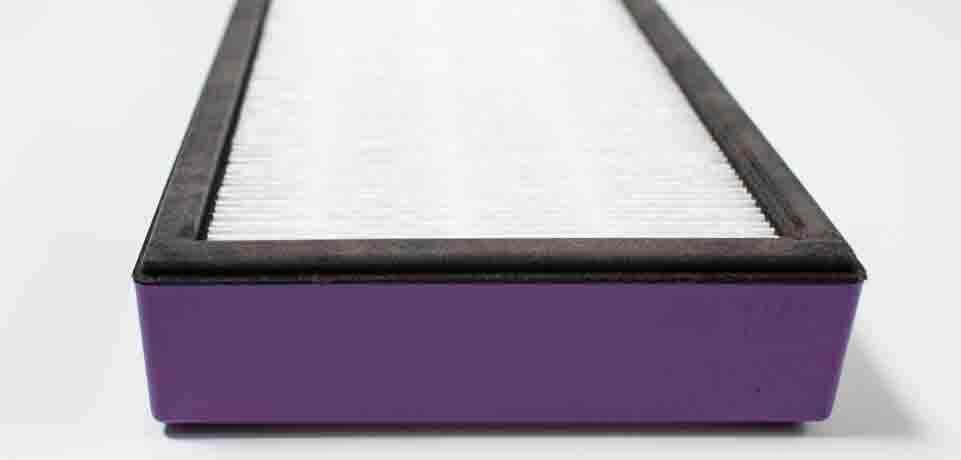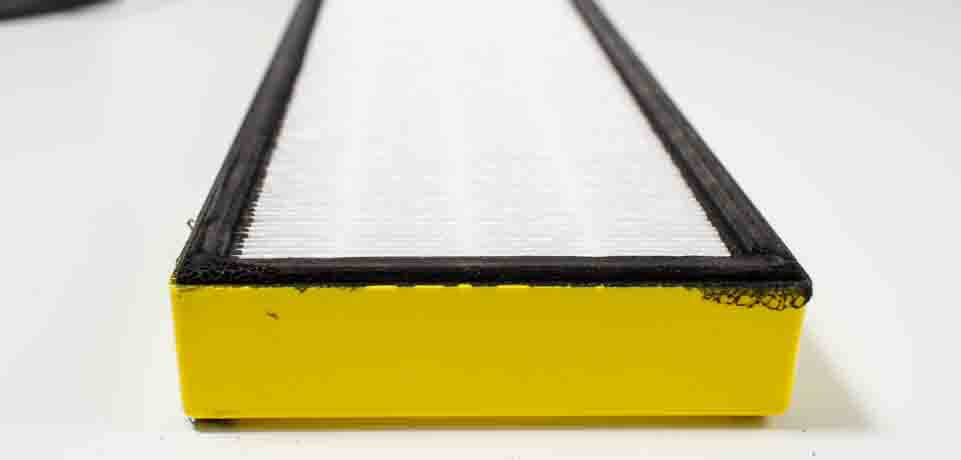 It doesn't matter if an air purifier intakes air on all sides or on only one side. Our testing showed that units with a 360 degree inlet had absolutely no advantage in cleaning the air in the room effectively. 360 degree inlet units didn't clean the air any faster and didn't clean the air to any lower of a concentration than units that only pulled in air on one side.
What does matter
We strongly recommend an air purifier equipped with a HEPA filter – not a HEPA type filter, not a permanent filter, not some proprietary particle filter – just a standard HEPA filter.
With an efficiency of 99.97%, a HEPA filter will remove 9,997 of every 10,000 particles that pass through it. This is the uncompromising standard you should require for the particle filter inside the air purifier you buy.
Particle filters (in most air purifiers this is a HEPA filter) capture solid particles like dust, mold spores, pollen grains, etc.
Particle filters do NOT capture gases like VOCs or odors.
A different type of filter is necessary. In most air purifiers this is a carbon filter. The carbon in the filter bonds to unwanted gases like VOCs or odors and by bonding to them removes them from the air.
Two different types of carbon filters are prevalent on the market:
Type 1 – a fibrous filter that's only coated with carbon
Type 2 – a filter that's comprised of a plastic frame that contains actual carbon pellets
For reasons we discuss in our full-length guide on the topic, type 2 is more effective than type 1 for filtering out unwanted gases from the air. So, if gas filtration is a priority for you, look for an air purifier with a carbon filter that contains actual carbon pellets.
Earlier we talked about how you don't need most extra or upgraded filters. However, a washable pre-filter is the one "extra" filter you absolutely should look for.
A washable pre-filter will go a long way in extending the life of the unit's HEPA and carbon filters as it captures all the larger particles that saturate those other filters the fastest (before those particles can get to those filters).
The best part is that you don't need to replace this type of filter. It's sturdy enough and washable -you can clean it over and over again with no drop in performance.
Note: be weary of units that don't have a separate washable pre-filter. Budget priced air purifiers, especially, have a fibrous carbon filter that doubles as a pre-filter. The problem with this type of pre-filter is that the carbon filter has to be replaced, at cost, when it saturates. A separate washable pre-filter can be cleaned and reused indefinitely for free.
CFM
Already discussed at length earlier in the "sizing" section of this guide.
Air purifiers don't draw a lot of power but some definitely draw a lot more than others. Look out for air purifiers that draw a lot more power than their competition at similar output – that is to say, similar CFM.
We list all energy efficiency data in our individual air purifier reviews.
Air purifier noise output varies from about 40 dB all the way up to about 70 dB (measured right next to the air purifier), depending on exact model and fan speed.
Larger air purifiers tend to be quieter than smaller air purifiers only because they can be set to a lower fan speed at the same output as smaller units on high.
For example, the smaller Honeywell HPA100 outputs at approx. 110 CFM on its highest fan speed with a noise output of 68.7 dB. The larger Winix 5500-2 outputs at approx. 100 to 120 CFM on its second highest fan speed with a noise output of only 48.9 dB.
Not all air purifiers are built to the same standard of quality with equally well made parts. Again, this is a topic we cover more on a case by case basis in individual reviews.
Here the discussion can be broken down into two parts
initial cost
long term cost
For initial cost
consider the price of the air purifier BUT ALSO
consider how much output (CFM) you're getting for the price paid
Output (CFM) is perhaps the biggest differentiating factor for initial cost when it comes to HEPA equipped air purifiers.
Look for a unit with a good CFM to $ ratio.
For long term cost pay special attention to
energy efficiency
the greater the unit's energy efficiency, the greater the output (CFM) you're getting for the amount of power drawn – power that you have to pay for. In other words, a more energy efficient unit is going to cost you less in power costs over time than a less energy efficient unit.
filter replacement cost
Here, there are two things to look out for.

First, make sure replacement filters for the air purifier you choose is available from multiple sources. With certain esoteric brands you're beholden to buying replacement filters only directly from that brand – that means you're at the mercy of the manufacturer as to how much or how little they want to charge for their filters.

Popular brands have filters readily available at multiple retailers – this allows for a certain level of price competition which drives the price down a bit and keeps it reasonably low.

Second, be very careful comparing the prices of replacement filters for smaller air purifiers and replacement filters for larger air purifiers.

Smaller air purifiers tend to have smaller filters which is why their filters cost less.
Larger air purifiers tend to have larger filters which is why their filters cost more.

Don't analyze filter cost without proper context – and a big part of that context is the size of the filter.

So, don't get too excited if you see replacement filters for cheap for a small unit.

And by the same token don't be too dismayed if you see replacement filters for a full size unit cost a lot more.
Top 3

The three best air purifiers on the market.
#1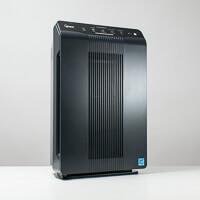 The Winix is the best air purifier in 2019. It retails for only approx. $150 – a great value considering all of its features. This unit is equipped with a washable pre-filter, a HEPA filter for particle filtration, a pellet-based carbon filter for gas filtration, and processes approx. 250 cubic ft. of air every minute (250 CFM). This high of an output (CFM) makes it a viable option for rooms up to 300 sq. ft. Beyond 300 sq. ft. we recommend multiple units running simultaneously (as we described above).
The Winix is also highly energy efficient, very quiet on lower fan speeds (all air purifiers are "loud" on high fan speed), and remarkably durable for its price.
#2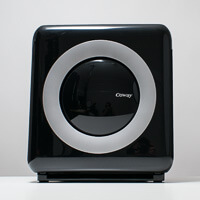 The Coway Mighty is the second best air purifier we've tested. It usually retails for slightly more than the Winix at approx. $200 or so. It also is equipped with the exact same type of washable mesh pre-filter as the Winix. The Coway also features a HEPA filter for particle filtration. However, it has a low quality fibrous carbon filter. The filter is only coated with carbon - there are no carbon pellets in the filter. This is the largest disadvantage the Coway has compared to the Winix – inferior gas filtration. So, if you are especially concerned about filtering unwanted gases like VOCs and odors we would steer you away from the Coway and point you in the direction of the Winix instead.
In all other areas the Coway performs very similarly to the Winix. It has a very similar output of approx. 250 CFM so it can be used in just as large of a room as the Winix – up to 300 sq. ft. Like the Winix, the Coway is highly energy efficient, just as quiet on lower fan speeds, and just about as durable as well. The Coway does come with a 3 year warranty as well while the Winix only comes with a 1 year warranty.
#3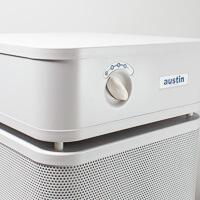 If gas filtration is a strong priority for you the Winix is certainly a better option than the Coway, but it still won't filter gases nearly as well as a unit that specializes in gas filtration.
The Austin HealthMate is the best such air purifier. It offers superior gas filtration for two reasons:
1. It contains 15 lb. of gas filtration media. Air purifiers that are not optimized for gas filtration have gas filters that contain about 1 lb. of gas filtration media at most.
The Austin's greater amount of gas filtration media allows it to remove gases much faster than other air purifiers. The large amount of media also takes much longer to saturate than filter media in most other gas filters. Thus, the Austin's filter doesn't need to be replaced nearly as often as other gas filters.
2. It contains zeolite in addition to carbon pellets. Most other air purifiers have gas filters that only contain carbon.
The addition of zeolite allows the Austin's gas filter to remove a greater number of chemicals than it would be able to remove if it only contained carbon. Carbon bonds to (and thereby removes) most gases but not all of them. For example, one gas carbon does not bond to is formaldehyde. A carbon filter will not be able to remove even trace amounts of formaldehyde from processed air. The Austin's carbon/zeolite mixture will be able to remove formaldehyde because zeolite, unlike carbon, is able to bond to formaldehyde and thereby remove it from the air.
Note that the Austin's superior gas filtration comes at a price. For one, the Austin doesn't remove particles as well as units optimized for the task (units like the Winix or Coway). Second, the Austin is quite expensive. Expect to pay approx. $500 to $600 for this level of gas filtration.
Air Purifier Reviews

Reviews for all the air purifiers we've tested.
Add a Comment
Have a question or comment? Let us know below.
Comments (28)
Hey,
Thank you so much for the guide!
I was wondering if you had recommendations for Europeans, I checked the review for the Winix 5500-2 which offered an alternative but it costs over 320£ which seems to ruin the value.
The Coway Mighty also doesn't seem to be sold over here, So I was wondering if you had any recommendations?
Thanks for any help regarding this!
Thank you so much for your thoughtful and unbiased reviews. It's helpful to find something like this when there is quite a bit of garbage out there.
Do you have any thoughts on the Winix C545 vs the 5500? The wifi feature on the 545 isn't a draw but the costco price is :)
Seems like it is pretty similar in terms of cfm to the 5500 but is a smaller size. Do you think that might make a difference in terms of efficacy?
Thanks again.
My one big concern with the C545 is its gas filter. It has a similar filter to the 5300-2 - a fibrous carbon filter. While the 5500-2 has a far better quality pellet-based carbon filter. A viewer on YouTube also pointed out that the C545 has plastic clips instead of magnets (on the 5500-2) for the front panel's top attachment. Those plastic clips on the C545 are much more likely to wear out and break than any part on the 5500-2.

Otherwise, the C545 does offer very similar performance to the 5500-2.
Thanks for the review. I want to clean the air from second hand smoke and get rid of the cigarette/dirty ashtray smell in my 1140 sq. foot, 2 story stacked townhouse coming from inside, from my neighbour. I hate the smell but am much more worried about the health issues of the cigarette smoke coming into my unit. This is now November of 2020, can ypu please advise which air purifier would work best, domyounstill recomend the Wnnix 5500-2? The living space is a room about 21' by 13', with a small kitchen off the living room and a separate den at the front of the unit. Thanks.
We have followed your recommendations for Coway and Winnix and are very pleased with the accuracy, detailed explanations, and recommendations you provide. We have heard your discussion of the fact that cheap air quality monitors/testers are not much good during your air purifier reviews, but we have not seen any actual recommendations from you as to what products you use and/or would recommend. Can you provide any info on that to guide us? Do you plan to do a review of air quality testers in the future?
Thank you very. much,
John Clark
Saw you on YouTube love the detail. Curious your thoughts on Rowenta's Air purifiers. would be a cool comparison video between their 2 purification lines. (And other products they seem to be pretty unknown - but from those I know who have their stuff swear by the product quality ) I can't seem to find the filter replacement easily for them so I'm ruling it out - but thought your views on it and their nanocapture filter for formaldehyde would be interesting.
We unfortunately haven't tested any Alen air purifiers though looking at the specifications for the model you referenced I would not recommend it for any room larger than about 300 sq. ft. I discuss buying an air purifier for a large room in detail in this guide.
First of all, your reviews are amazing. Best on YouTube!
I decided to buy the Winmix 5500-2 but I just found the new HR900. Have you reviewed it? What do you think about it? It seems like the same product but has an extra filtration for dogs (I have a hypoallergenic dog so not big deal) but also has the honeycomb carbon filter and it just looks nicer. What are your thoughts?
First of all, thank you for your knowledgeable website and Youtube videos, they have been very helpful.
I live in a main level bungalow and have a neighbour in a basement apartment who smokes heavily. The worst smelling room in our home is the living room(20'x13') as the smoke from downstairs come up through the air exchange to the HVAC. Cigarette odor is my main problem. Should I buy the Austin Air and set it up in the living room while supplementing the rest of the house with the Winix units? Or should I just drop 2 Winix units in the living room and putting others in bedrooms, etc. Another concern with the Austin is that it may be too loud in the living room while watching television.
Also, would the Austin Air HM450 Plus be their best unit against cigarette smoke and odor?
Thank you in advance for your help.
I recommend the Austin Air HealthMate if odor is the primary concern. You can then supplement the rest of the house with Winix units at a lower cost as you suggested. Both the Austin and the Winix make just about the same amount of noise on their highest fan speed. You can place the air purifier in the far side of the room away from you if noise is a concern. It will work just as effectively no matter where it is located in the room.
I have a full guide on air purifiers for germs (including viruses) here. For my thoughts on Medify and "medical grade" HEPA filters, see my reply to Jerome below.
If you search for "medical grade HEPA" online the first result points you to Medify's website. There's a reason for this. The term "medical grade HEPA" appears to be much more of a marketing term than anything else. Yes, HEPA filters can be classified as H11, H12, etc. but saying that H13 and H14 HEPA filters are "medical grade" appears to be marketing. Furthermore, the H11, H12, etc. classification of HEPA filters is only done in Europe (see here). In the US we have a single classification - "true HEPA" - filters which remove particles larger than 0.3 microns at an efficiency of 99.97%. There is no further distinction that is made.
All in all, I believe true HEPA filters work well enough. Medify appears to make very good air purifiers (I look forward to testing them) - but I would not say that is so because their HEPA filters are better.
Thanks for all of your insightful research and reviews! I'd like to know if you have compared any smart air purifiers and if you recommend any in particular, or not at all. With being able to have lights, fans, TVs, and so many other electronics synced up through your smart phone, I'm curious what your thoughts are on smart air purifiers! Any insight you provide is greatly appreciated!
Our current recommendation for a smart air purifier is the Coway AirMega 400s. We do plan on testing more budget friendly smart air purifiers in the future.
Hi there,
Thanks for your helpful information!
Couple of questions, and thanks in advance for any additional help:
1. Have you looked into Airpura (such as Airpura R600)? I wonder how it compares to the Austin model you recommend.
2. I'm surprised you recommend the Austin Healthmate over the Jr given I see quotes for them of 400 CFM and 200 respectively. I would think the Jr would fall closer to your recommended size. Am I missing something? (Maybe the numbers I see are inaccurate. If it is simply the fact that the Healthmate is less than twice the cost of the Jr, I am a little confused about how that squares with your golden ratio theory.)
3. I am looking to purify the air for a large (500 sq foot) space. If gas filtration is important but budget not infinite, is there any sense in getting one Winix 5500 and one Austin Jr./Healthmate as a compromise on particulate/gaseous abilities?
1. We unfortunately have yet to research or test any Airpura units.
2. 400 CFM is the fan CFM. The actual output is closer to 250 CFM.
3. I think you actually have come up with a great idea. The 5500-2 is optimized for particle filtration while the HealthMate is optimized for gas filtration. Both units can work very well together and together they will provide sufficient CFM for a 500 sq. ft. space.
Are there any other air purifiers that have a pellet base carbon filtration system or is Winix the only company that provides that.
I am in Canada, so Winix is not readily available.
BTW - great reviews on You Tube, I subscribed to your channels -- truly informative (so much so, I cancelled my order with Costco for their GermGuardian AC4700BDLX -- I need 7 for all my small rooms)
I am looking for an air purifier for my family room (530 sq ft). The Winix would be the obvious choice but is it better getting one unit to handle the sq ft or two Winix 5300 units?
If I opt for the two units its about the same cost, $400-$500 for two Winiz units vs a single unit PLUS twice the cost when replacing the filters.
Whats your take on my dilemma?
Thank you.
Regards,
Aaron
I watched your air purifier reviews. I liked the straight forward commentary but I was very surprised that you didn't mention one of today's biggest air purifier issues...ozone. I'm no fanatic but I've read the scientific literature and this subject is worthy of mention; however, none of your reviews mentioned it. This omission gave me pause as to how well researched the analyses were. The basic sense of the medical and scientific community is that ionization is almost totally ineffective but it does produce ozone, albeit very small amounts. The problem is that even small amounts of ozone can create problems for lung disease sufferers. The consensus conclusion is why create any ozone when it's ineffective and could cause harm. The Winix Plasma Wave falls in this category. The technology does produce ozone (but can be turned off.) This needs to be part of your review so asthma/COPD sufferers are informed. I submit this comment only because I like your reviews!
First of all thanks a lot for your very good and thorough research and review on air purifiers! Your video explaining about air purifiers and comparing some of them was one of the most helpful things for me in researching this topic.
I have recently purchased a Winix Zero here in the Netherlands where I live. I actually wanted to buy the Winix 5500-2, but it is not available here.. Mine is doing a good job when it comes to purifying the air as far as I know. But it is blowing a lot of very cold air. This is a huge drawback.
You have tested many air purifiers. Do they all blow cold air like this?
Thanks a lot for your good information!
Moving air "feels" like cooler air - but it's not any colder than the same non-moving air. All an air purifier does - including the 5500-2 - is move air (and filter it of course).
In other words, an air purifier is basically comprised of a fan with filters. There's no mechanism inside the air purifier to cool the air. And so it cannot lower the temperature of the air it processes.
Thank you for your excellent ability to provide clear, concise and well delivered information on air purifiers.
I need your expert advice on a counter size air purifier unit for the travel trailer (150sqft) I live in when traveling across country to dog events with 2-dogs. No room for a floor model unit. The trailer gets really dusty. Also the recent fires make outside air quality terrible with EPA ratings in the unhealthy range.
Thank you very much for any information.