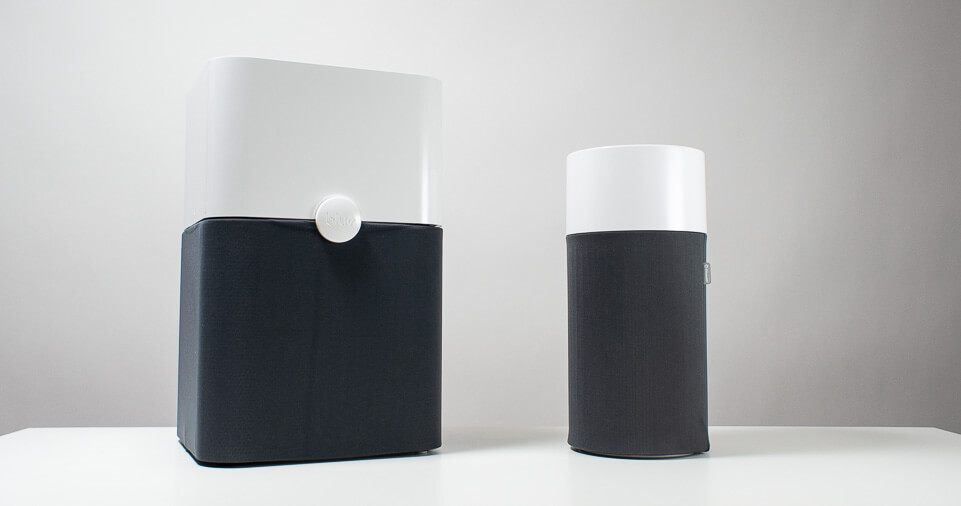 BlueAir's product line can be categorized into four different air purifier "families":
Blue Pure
Classic
Pro
Sense+
Blue Pure
BlueAir Blue Pure air purifier models include
Blue Pure 411 (also sold as the Blue Pure MINI in certain countries)
Blue Pure 211+ (also sold as the Blue Pure MAX in certain countries)
Blue Pure 121
The 411 is the smallest air purifier BlueAir sells. It's very light and portable and highly energy efficient. It does have some shortcomings (durability, noise output issues) that we discuss in detail in its review.
The 211+ is larger than most other air purifiers on the market. It also has a uniquely high output (CFM), albeit at a fairly high price.
The 121 is even larger (taller, not wider) with greater output to boot – approx. 400 CFM compared to approx. 360 CFM for the 211+.
All three of these units have a modern design with a unique 360° inlet and a corresponding 360° filter.
The filter is a proprietary particle filter and not a HEPA filter. This is one of the primary reasons why we do not recommend any of the air purifiers in this line.
HEPA is a proven technology and while these units did reduce particle concentration in all of our testing, our testing was limited to particles 0.5 microns and larger. HEPA excels in the less than 0.5 micron range while the performance of these particle filters in the same range is unknown.
Blue Classic
BlueAir Classic air purifier models include
Classic 203 Slim
Classic 205
Classic 480i
Classic 605
The Classic series features a more traditional design (non-360° inlet with top outlet) and aesthetic (rectangular instead of cylindrical like the Blue Pure units). Higher end models including the 205, 480i, and 605 add SMART functionality – unit control via a smartphone app.
The 605 is one of the highest CFM air purifiers on the market with a whopping output of 640 CFM. At 35 lb. it's also one of the heaviest units on the market. Not surprisingly this unit ships with casters as it's not reasonable to expect anyone to pick this large of a unit up to move it around.
We would recommend the Blue Pure series over the Classic series as the former offers much better value. Classic series units offer poor value not only compared to the Blue Pure series but compared to all other air purifiers in general.
Blue Pro
The Pro line includes the
This series once again features a rather unique filter design. Two filters form a V shape. Each model doubles the number of filters of the previous model. The M features one set of two, the L two sets of two, and the XL three sets of two.
All three models are very expensive. The M MSRPs for approx. $700, the L for $980, and the XL for approx. $2500. This level of pricing precludes us from recommending any of the units in this line for residential use. At close to 1000 CFM the XL could be an option for certain commercial applications where high CFM with a small footprint is required. However, keep in mind that even at this level these units still are not equipped with HEPA filters.
Blue Sense+
There is only one model Sense+ unit although it's available in five different colors:
Warm Gray
Polar White
Ruby Red
Midnight Blue
Leaf Green
This line features incredible build quality with extremely high quality materials. However, it still lacks a HEPA filter. It's rather low CFM (150) combined with its high price tag (approx. $400) keeps it well off of any top ranked air purifier list.
Note: Blueair has corporate offices throughout the world including the USA and Sweden but all of their air purifiers are made in China.
Add a Comment
Have a question or comment? Let us know below.
Comments (1)
It is mentioned that the Blueair units do not use HEPA media, but what is not mentioned is that in several real world tests they outperform HEPA at the .3μm level (and smaller - even though HEPA increases in efficiency below .3μm). I do not know why the Blueair marketing material says 99% for the Blue Pure line specifically unless it was labeling that was placed before other testing was done. I wonder because a variety of data, including some acquired through quite meticulous testing on these units rates them at - at least 99.9% efficiency with PM .3 μm. Additionally, Wirecutter, Consumer Reports, and AHAM's own testing a .3μm confirm this with the 121 unit delivering a 400 CADR for all categories. Now maybe this is due to wild airflow ... But then there is the fact that the Blue Pure 121 delivers a 400 CADR across the board vs. the "HEPA" (and typically much more expensive) AirMega-400 (From Coway) supposedly delivering a very similar CFM but ONLY approx. 350 for its occasionally listed CADR... The 211+ and 121 of the Blue Pure line outperform many similar HEPA units in a variety of tests. Interesting stuff for sure.