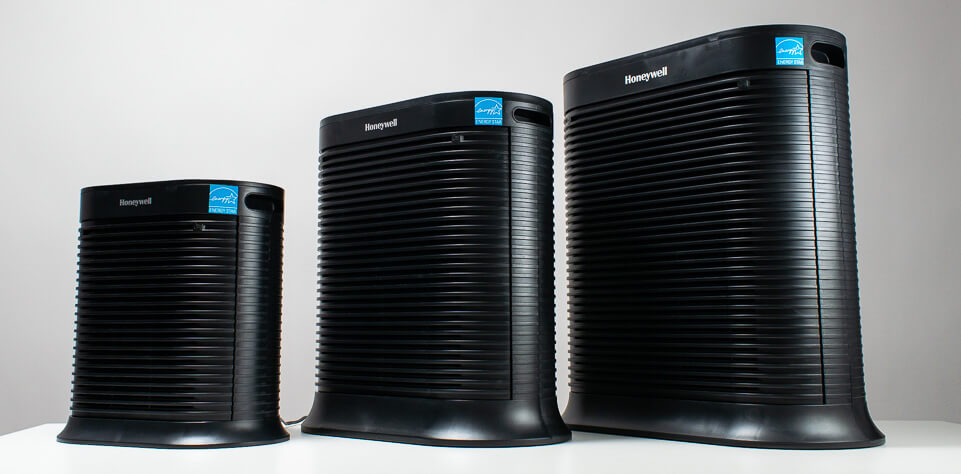 Honeywell manufacturers a broad range of air purifiers.
From Honeywell, we've tested
replaceable (HEPA) filter units
permanent (IFD) filter units
tower units
compact units
traditional units
In general, Honeywell units did not perform very well in our testing. As such, we generally do not recommend any Honeywell air purifiers currently on the market.
Honeywell units are easy to find in brick and mortar stores which is the primary reason for their popularity. Otherwise, they lack in features and are generally a poor value compared to their competition.
We especially do not recommend their permanent filter units. Buyers are attracted to these units because they offer the promise of not having to buy replacement filters. The problem is that
they lose efficiency after repeated use and
The HPA series is perhaps Honeywell's most popular line of air purifiers. This line is interesting because it provides two things that are important to a lot of potential buyers:
great portability
the HPA100 is especially light and all three models feature side handles that make them very easy to pick up and move around.
the ability to turn off all control panel lights
most air purifiers on the market do not give you this ability.
However, this series has major shortcomings including poor energy efficiency and high noise output – two things that are likely even more important to most consumers.
Other Notable Honeywell Models
Air Genius 6
Very similar design to the Air Genius 5
Very similar CADR/ CFM/output to the Air Genius 5 (although not exactly equal)
Tower that can oscillate
Single IFD filter
Single odor filter that acts as pre-filter
Intakes air on the back and outputs on the front
6 fan speeds (compared to 5 on the Air Genius 5)
Dimmer switch to turn control panel lights off
Adds a VOC sensor and "VOC sensing mode"– on this mode the unit will automatically turn on when it senses VOCs
Biggest change compared to Air Genius 5: adds smart functionality – can control unit wirelessly with an app on your phone.
Bottomline: permanent filter keeps us from recommending it.
Air Genius 4
Very similar design to Air Genius 5
Exact same height, width, depth as Air Genius 5
Exact same CADR/ CFM/output as the Air Genius 5
Tower that can oscillate
Same IFD, foam/carbon filters as other Air Genius models
Also has accent light like Air Genius 5
4 fan speeds (compared to 5 on the Air Genius 5)
Physical buttons instead of touchscreen controls of Air Genius 5
Bottomline: permanent filter keeps us from recommending it.
HFD-120-Q
Lesser version (worse filters, less functionality) of Air Genius models – see our review
Bottomline: permanent filter keeps us from recommending it.
Honeywell HPA 160
Honeywell HEPA tower
2x HEPA filters stacked on top of each other and a single carbon filter that acts as pre-filter
Approx. the same size as Air Genius 4/5 and HFD-120-Q
Approx. same output as HFD-120-Q, slightly less output than Air Genius units (CADR = 110, 120, 130 = approx. 140 CFM)
4 fan speeds
A timer – 2, 4, 8 hrs
No other settings – no dimmer, no oscillation
Bottomline: we would recommend a top rated unit instead. Top rated units have great energy efficiency, are quiet, but most importantly output at 250 CFM. This unit only outputs at about 140 CFM. For reasons why we recommend 250 CFM+ see our general guide.
Honeywell 50250-S
Much older design
Knob to control three fan speeds
No other settings – no timer, no auto modes
Uses 3x replacement filters that are stacked on top of each other. One of these filters is close to the price of one filter for one of our top rated units ($20 to $25 each) but now you have to buy 3x filters instead of one.
Carbon filter wraps around the outside of the HEPA filter – you have to locate the seam of the filter, carefully unfasten and separate it at its seam to remove it. Then to replace it you have to wrap it around, fasten it again.
Extremely high power draw – close to 200 watts on highest setting. Top rated units at approx. same CFM draw well under 100 watts – closer to 60, 70 watts.
These last two negatives – high filter cost and poor energy efficiency - are enough for us to not recommend it.
Conclusion
The bottom line for most Honeywell units currently on the market is that there are simply better options out there.  Top rated units provide better energy efficiency, lower noise output, better value and so on and so forth.
Unfortunately, we simply cannot recommend most Honeywell air purifiers currently on the market. Maybe the manufacturer will release new better made units in the future that are more competitive with offerings from other brands but for now we cannot recommend Honeywell units.
Add a Comment
Have a question or comment? Let us know below.
Comments
No comments yet. Be the first!