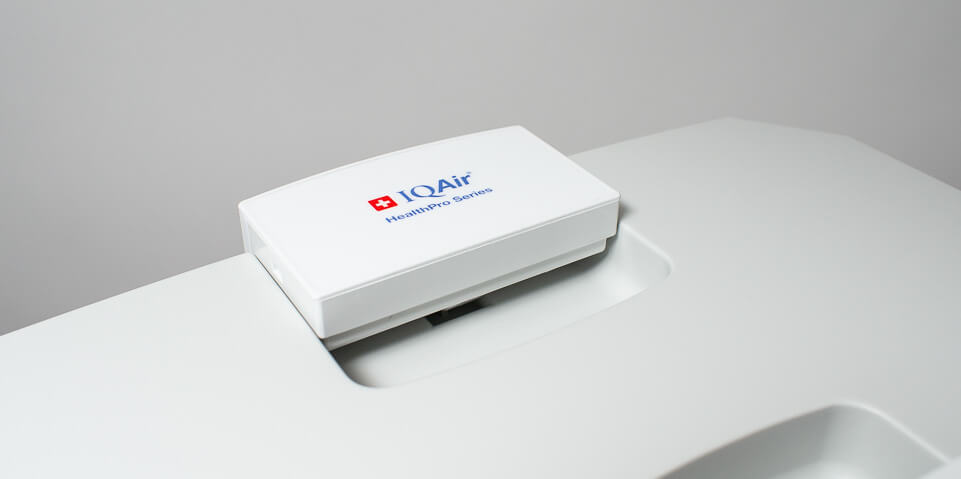 What are our recommendations regarding IQAir air purifiers? What is our opinion on IQAir and their air purifiers?
If we could sum it all up in two words it would be "poor value". The least expensive IQAir air purifier is the HealthPro Compact – it retails for about $800. The HealthPro retails for about $850 and the Plus for $900. The GC Multigas is about $1300 and the Klaus series is about $2500.
These are extremely expensive air purifiers. Why are they so expensive?
There are several reasons:
They're made in Switzerland
that's extremely expensive labor
They use very high quality parts and materials
which makes for, well, extremely expensive parts and materials
Each unit IQAir ships is individually tested and certified
The HealthPro Plus we bought for review came with its own "certificate of performance" outlining actual air delivery for the particular unit that was shipped to us compared to manufacturer specified air delivery on all six fan speeds.
The filters inside the unit are extremely thick
there's a lot of filter media for air to travel through. That means you don't need to replace filters nearly as frequently as you do on the average air purifier but it also means that…

the filters themselves are more expensive,
the body that houses those filters has to be larger – which is more expensive
the fan that drives air through all of those filters has to be larger and more powerful – which is more expensive
IQAir air purifiers come with a 10 year warranty as long as you register your product after buying it
that's at least double what most other air purifier manufacturers offer. It's expensive to replace parts and equipment up to 10 years after you sell it to a customer.
And so, you can see how all of these extra costs can add up very quickly. The business still has to be profitable so the air purifiers cost what they cost.
Here's the problem though:
The air purifier you buy doesn't need
to be made in Switzerland
to be made using extremely high quality parts and materials
to be tested before it ships to you
to contain thick expensive filters
or to have a 10 year warranty
for it to be a very good, effective air purifier.
Are all of these things good things? Yes, absolutely. But they come at a cost and for most consumers we simply think that this cost just isn't worth it.
For a fraction of the price you can buy an air purifier that does what an air purifier needs to do – filter air - just as well.
if your primary concern is particle filtration a top rated 250 CFM air purifier will do the job just fine for about $150 to $200. Such a unit has a HEPA filter with the exact same efficiency as the HEPA filter on IQAir air purifiers.
if your primary concern is gas filtration something like the Austin Air HealthMate will do an even better job than even the GC Multigas for about $500. The HealthMate comes with 15 lb. of gas filtration media. The GC Multigas comes with less – only 12 lb. of gas filtration media.
Are these air purifiers made in Switzerland? Do they come with 10 year warranties? No, they don't. But they're still very good air purifiers and they're our recommendation over IQAir air purifiers for most consumers.
A More Detailed Look at Specific Models
IQAir manufacturers both residential and commercial air purifiers.
Their residential units can all be placed into 3 major categories:
single room (5 different models)
whole house (2 different models)
3 personal (2 different models)
They make both a 3 ton and 5 ton whole house system – the 3 ton Perfect 16 and the 5 ton Perfect 16 and two different personal air purifiers - the Atem Desk and the Atem Car.
We generally do not recommend whole house or personal air purifiers so we do not recommend any one of these four models.
We do, however, recommend standard size single room air purifiers. We'll cover IQ's offerings in this category for the rest of this guide.
First, we have the HealthPro series which consists of three different models. The primary difference between them has to do with their gas and odor filter:
HealthPro
No gas and odor filter – but it is upgradeable to have one (the V5-Cell™ Filter MG)
HealthPro Plus
Comes standard with a gas and odor filter (V5-Cell™ Filter MG which contains 5 lb. of granulated activated carbon and impregnated activated alumina)
HealthPro Compact
No gas and odor filter – and NOT upgradeable
All three models feature the exact same pre-filter and a particle filter
Pre-filter - PreMax™ Filter F8 (S)
Essentially a proprietary particle filter designed to capture larger particles
Primary particle filter - HyperHEPA® Filter H12/13 (L)
This is essentially a HEPA filter. Visually, it's thicker and it also has the "HyperHEPA" moniker instead of simply being called a "HEPA" filter. But its manufacturer specified efficiency is exactly the same as that of a regular HEPA filter - 99.97% for particles equal to or larger than 0.3 microns
The fourth IQAir residential single room air purifier is the GC Multigas. This air purifier features a gas filter (still carbon + alumina) with 12 lb. of filter media instead of the 5 lb. of the V5-Cell. It features a "HyperHepa" pre-filter that captures 99% of 0.3 micron and larger particles and post-filter sleeves that capture additional particles and debris.
The GC Multigas does not come equipped with a standard particle filter (for example, a true HEPA filter). As its name suggests – the GC Multigas – the focus of this unit is on filtering unwanted gases like odors and VOCs, hence the 12 lb. of gas filtration media but no standard particle filter.
The last IQAir residential single room air purifier of note is the Klaus Series. This model is essentially identical to the HealthPro Plus except for its solid hardwood exterior (vs the grey plastic shell of the HealthPro Plus).
This model is designed for users that want the performance of the HealthPro Plus but in a more visually appealing outer shell. If you're concerned about aesthetics (for example, if you're looking for an air purifier that blends in better with your furniture and décor) but still want the performance of the HealthPro Plus – the Klaus series was designed for you.
Add a Comment
Have a question or comment? Let us know below.
Comments
No comments yet. Be the first!